2023 is your year to road race!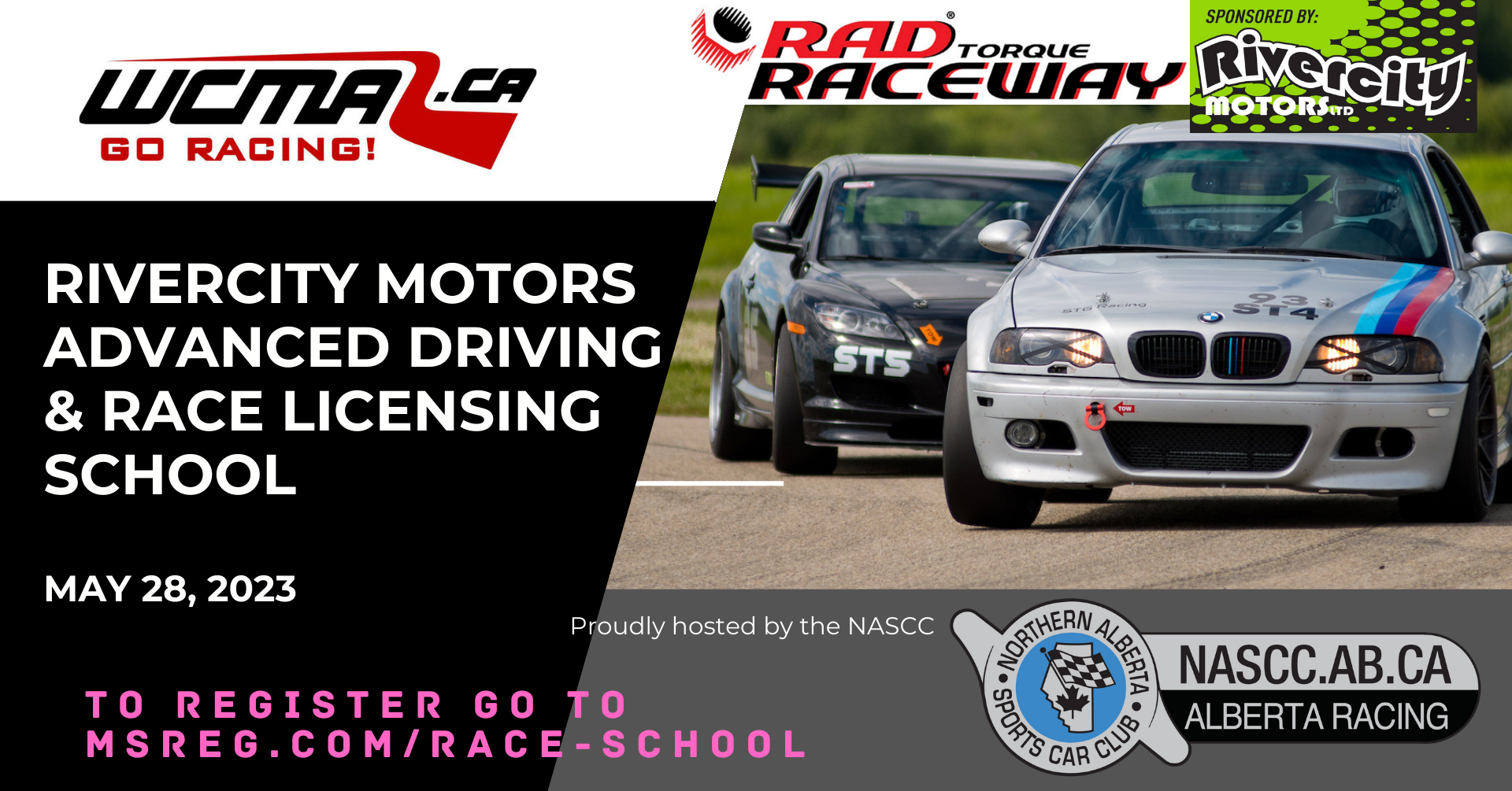 2023 Rivercity Motors WCMA Advanced Driving and Competition Licensing School hosted by the NASCC,
will be held on Sunday May 28th at RAD Torque Raceway
Information has been updated to 2023, as of May 10
The link to the video page for the School is here.
The Classroom presentation will be in two parts in 2023, a Zoom session on Thursday May 25 from 6:15 pm to 9:30, and face to face  classroom sessions on Sunday. Materials will also be emailed to students in the school close to the event.
Click here for the Zoom Session Powerpoint notes, and here for the Sunday face to face presentation notes
For current Event Registration (School, Race, Membership) Click here
For Rivercity Motors Race License School Registration only msreg.com/Race-School
– Information for Attendees
2023 Rivercity Motors WCMA Advanced Driving and Competition Licensing School
Registration fee is $315, with a $25 early bird discount available up to March 20.  Use the above Registration link.  For 2023, the information below has not yet been updated, as of Jan 7 2023.  Most information stays the same from year to year, so don't worry too much about it being timely.
Three run groups will be used, Green, Blue and Red.  Individual schedules are posted here, but you will be assigned later. You will learn your assigned run groups on Thursday the week of the school: planned schedules for 2023 are found here (updated May 10),

Sched-School-Green Grp.pdf

, 

Sched-School-Blue Grp

, and

Sched-School-Red Grp

Run Group Assignment 2023:  There will be three run groups this year, with assignments made late in the week before the school, to be sent by email.

Technical Inspection form for students must now be completed on line, using this link, https://form.jotform.com/230526025893052 then submitted electronically to:   NASCC.Tech.Director@gmail.com
You must also sign the waiver the RAD Torque Raceway Waiver in order to come onto RAD Torque Raceway grounds, link below, use the green tab at the bottom of the page:     https://radraceway.com/waiver/

Basic Race Licensing & High Performance Driving School Information

– What is the school all about? See the information directly below.  The Student Info Letter, lead follow protocols, and Road Race 101 files provide lots on needed information

On track Session Curricula/guidelines.pdf

  Important 2023 guidelines for what you will focus on each on-track session. 


For 2023 there will be in-car ride along instruction, if both student and instructor agree to be in the car with each other. 

Otherwise

your instructor will provide some lead/follow exercises out on track, and then instructor teams will observe from corners.  Small-group feedback sessions will take place after some on track sessions.

Road Racing 101

– how to get started

Flags for WCMA sanctioned racing – to apply for a race license you must write and pass the WCMA Flag exam.  The link provides you a summary of the flag rules.

Student Information Letter 2023

A link to the letter will also be emailed to registrants as the 2023 school date approaches. This letter  contains important and useful information for getting ready for the school, independent of the year.

Rad Torque Gate Entrance Map for NASCC participants;

Sunday you will most likely need to enter through the third gate, called the Drag gate on this map

Club Membership Application Form

for those who don't want to sign up for membership through the on-line

NASCC.motorsportReg.com

on-line registration site.

This page is always under construction, with more information appearing or updated soon, keep checking back
WCMA Forms, Information and Links you may need
When you start to go wheel to wheel racing you must read these Supplementary Regulations for important information on Rad Torque Raceway entry fees and procedures, transponders, and paddock procedures.
Supplemental Regulations, NASCC Road Race Series 2022 – an updated version will be posted around mid to late April, 2023 on the Forms & Downloads page under the Racing menubar

Event Safety Plan:

an updated version will be posted around mid to late April, 2023 on the Forms & Downloads page under the Racing menubar
There is a lot more information you need when you are racing, and it can be found on the Race Docs page under the menubar, or here
Sprint racing
The NASCC road race school is run annually at Rad Torque raceway in May. The school consists of an evening classroom session (Thursday evening by Zoom) followed by an all-day on-track event Sunday where students get to experience and learn high performance race driving.
Endurance racing
Endurance racers are welcome to take the annual race school or are also able to attend Friday evening classroom training prior to any endurance race weekend. The license they are granted entitles them to participate in endurance racing only.
Related files
Related files & downloads can be found on the race docs page
2023 is your year to road race!